On average, it takes a burglar just 8-12 minutes to rob your home. Most home burglaries are by opportunist burglars, who are looking for a quick and easy way into your home. Don't make this easy for them, read our quick article below on the most common things burglars will look for to enter your home and what you can do to secure your home. From replacement windows and doors through to remembering to cancel your newspapers, we cover every aspect to help you keep your home safe and secure.
Secure your home
First off we will start with the figures. As we said above, most burglaries are opportunists, just looking for an easy way to gain access to a house and get away with whatever they can. This is highlighted by the following stats showing how burglar's access homes.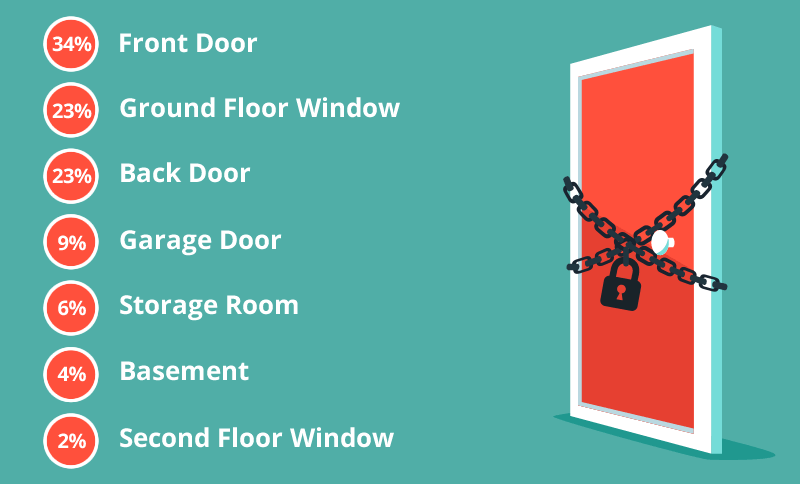 Most residential burglaries occur from 10am to 3pm when most people are at work or at school. It is important to ensure your house isn't an easy target during this time. Simple changes to your home can all make a difference.
Ensure no valuable items are left on display clearly visible through windows or from the street
Burglars will climb bins to hoist themselves over fences or to higher windows, remember to always store your bins away to reduce this risk.
An unlocked shed is perfect for burglars, it gives them access to your possession's and they will even use your own tools to then gain entrance to your home.
Never leave your spare key in an obvious place such as under the door mat or under a plant pot next to your door. This makes it far too easy for your opportunist burglar.
5 Ways to Secure your Home against Burglars
Replacement windows and doors
Old windows and doors generally have very weak security and can make for an easy entrance to your home. Upgrading your windows and doors is a great investment for your home. At Fitter Windows, our replacement windows and doors come with a modern 10 point locking system that makes it very difficult for smash and grab burglars to access your home. Opting for strong uPVC Windows, Aluminium Windows and double or triple glazed glass can make a real difference. A twin rebated composite door can also be a great purchase, with the extra strength and top of the line security keeping your home safe and sound. Consider contacting Fitter Windows on 01322 515 960 to discuss the security requirements of your home.
Alarms & Security Systems
A staggering 60% of robberies on residential homes that have alarms were unsuccessful. The alarm system itself will usually act as a deterrent, with the visible alarm box on the outside of your home and any additional security signs this comes with putting off many opportunists. Once inside your home, a loud audible alarm will greatly lessen the amount of time a burglar will spend and cut down the amount of valuables they will get away with. To really secure your home we would always suggest a full security system, with alarm, window and door sensors and if available CCTV cameras. The price of these systems has fallen over the past few years, with new and exciting technologies entering the market. Shop around and be sure to let potential thieves know you have the security system with any external signs your security company supply.
Social Media Stalking
Here is a simple one that shocks quite a few people. A massive 78% of burglars admit to looking for homes to target on Social Media websites. It is great to tell all of your friends and family on Facebook that you are going on holiday for 2 weeks, but who else is watching? Posting a picture of your new 56" television onto Instagram is great, but how many of your viewers will then be searching your social media profiles to try and find your address. Be sensible with your social media posts. If you need to post on Facebook that you are at the airport flying to Dubai for 3 weeks, ensure your profile is set to a high level of privacy so only your chosen friends and family can see it. Avoid posting pictures of your valuables on social media photo platforms and if you really must, just ensure you have no record of your home address or any photographs of the front of your home anywhere on the internet.
Safe Home with a Home Safe
In the unfortunate event that your home is burgled, limiting the amount of valuables that are taken is your next thing to think about. Small and easy to carry valuable items are most commonly stolen by your opportunist thief. Keeping your easily handled valuables out of site is a good start. Home safes are inexpensive and cannot be broken into in a short amount of time, this makes them a great place for your smaller valuables and in most cases, the opportunist burglar will not even attempt to break into the safe. Another top tip is to hide your valuables in either the kitchen or a baby room or nursery. Many burglars won't spend long in these rooms as they do not usually house many valuable items, this could be a good tip to help keep your valuables out of their hands.
Anybody Home?
Our last tip is a very simple one. Don't make it obvious that nobody is at home. If you are going away for a considerable length of time, remember to cancel your newspaper deliveries or ask a neighbour to come over to collect your mail every few days or so. There is nothing that screams "AWAY ON HOLIDAY" as a letterbox full of newspapers. This can usually be seen from the street and is an instant flag to potential thieves. Giving the appearance that you are home, even when you are away on holiday, can be such a simple, effective deterrent. Placing your lights on a timer, ensuring your mailbox is clear and keeping your home telephone ringer turned down can all make that extra difference to your home security.
With these simple steps we hope you can keep your home safe and secure and the burglars at bay. Fitter Windows have a friendly team on hand if you have any questions regarding the latest security for your windows and doors, give them a call today on 01322 515 960
Sources: Landlordstation.com, Yale.co.uk