It seems that the largest amount of people will only replace their windows when they start to become unusable, drafty or with masses of condensation.  This is understandable; replacing your windows can be an expensive undertaking, even if you are getting a great deal on price. Whether you are replacing your windows due to fault or you are replacing them to improve the overall appearance of your house, the options are still the same – and there are lots of them.
Upgrading your windows can be an exciting project, these days there are so many different styles and colours to choose from with a range of different glass finished and accessories.  Choosing the different options and creating a new style for your home can be a great experience. You can experiment with these different options online and picture how your home would look with a different style of colour scheme.
Flush Windows
One of the many options available for replacement windows are Flush Windows (or flush sash windows).  These are an innovative designed window, giving a completely flush appearance, giving a stylish, elegant look to any property.
The Flush Windows have become very popular with heritage and classic styled properties, with their flush finish and timber effect colour options working perfectly with these period homes. Modern Flush Sash windows are built from strong, durable uPVC materials, but with their timber effect finish and traditional timber sightlines, you would be easily mistaken for thinking they were classic timber frames.
The difference is clear
Whether traditional or modern, the difference with flush windows is clear to see.  The build and finish is stunning when compared to other styles of modern window.  The flush appearance in itself is stunning, but they have so much more than that.  It is the finish that really makes these windows stand-out from other window styles. 
Generally with uPVC windows you will see a join line where the windows are fixed together. This gives a slightly raised edge which can be seen on all corner areas of the window frame.  The flush sash windows are beautifully finished, the join is invisible and the results are stunning.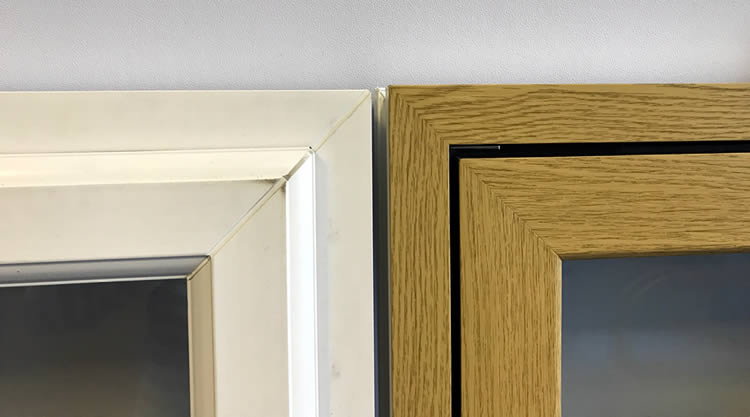 When put next to a standard uPVC window frame the difference is amazing. You would not think that there could be that much difference between the different styles of window, but seeing the difference between these is a real eye opener.

The styling of the flush sash windows doesn't stop at the stunning design and build, the colour options and accessories are equally well designed to match.  All of the colour options gives an extremely realistic timber effect finish as seen here.

There is also a large range of traditional, ironmongery style handles and openers to really finish off the look.  With so many different options to choose from, upgrading your windows can really be a fun experience. Take your time to view all of the different window options and see what style would really add something special to the overall appearance of your home. If you need more information, request brochures or call on of the Fitter Windows team and they are always happy to pop along with some samples and style guides to ensure you find the perfect fit for your home.