When we hear from troubled homeowners who have front door sticking issues in Kent, Essex or Greater London areas, more often than not the door in question was installed some time ago and/or is attached to a more 'mature' type of home. As well as irritating, this situation can potentially compromise the security of the property if it's not addressed swiftly; considering around 70% of home break-ins gain entry through the front door.
Why is my front door sticking?
How long is a piece of string?! … Try stepping back and simply looking at your closed front door from a distance. Your front door could be sticking due to a number of reasons, including:
Lack of lubrication? The door hinges or locking mechanisms may simply need to be oiled.
Loose hinges? The door hinges may just need to be tightened up or replaced.
Screw loose? The door screws might need to be tightened or replaced.
Slack door jamb? The lower door post may have been pulled loose or hung incorrectly, causing it to stick.
New flooring? For example, if you've just had a new carpet fitted this could be the reason your front door is sticking.
Sticking from the side? It's reasonable to assume that a build-up of paint layers over the years could be causing the door to stick.
Sticking from the top? It's most likely the sticking is caused by slight structural settling of the property, which naturally occurs over time.
Swelling? Your front door may have swelled or warped due to hot or humid weather. A door that sticks in the winter months could also be due to drastic shifts in temperature over the seasons.
Damp conditions? Your door may have absorbed moisture into it, especially if the bottom edge hasn't been treated or painted properly.
Only just been installed? It could be as simple as the finish sticking against the door frame or it may have been hung incorrectly.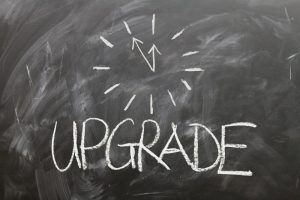 Time to upgrade your front door?
Whether your preference is uPVC, composite or aluminium, we have an extensive range of superb double-glazed front doors that'll truly enhance your East of England home for many years to come. Build up your ideal front door by selecting the colour, material, style and the finishing touches through our exclusive interactive online quote form. In return, we'll provide an instant price to supply and fit your replacement front door; it really is that simple!
Our professional team look forward to hearing from you soon, to find out if your existing front door can be repaired or whether it may be more cost effective and quicker for you to upgrade. Call us on 01322 515 960 or send us an online message to find out.