One of the most popular questions we are asked is how secure are uPVC doors? Home security is important to us all, so it is important we have good quality doors and security to keep out any unwanted visitors.  We recently completed an online survey, asking home owners what was the most important thing they looked for when purchasing a new front door for their homes. This was a multiple choice question, with the option of style, security, price or energy efficiency. Security won this survey with a massive 61% of the votes. This came as no surprise to us, security is one of the questions we are asked about the most when supplying our high quality range of windows, doors and conservatories. So back to the original question, how secure are uPVC doors?
uPVC Doors
It seems the mind set of many home owners is that classic timber doors are more secure. We hear so many people saying "The heavy wooden doors and frames must be secure as they are so big and heavy". While timber doors can have a great secure set-up to them, our uPVC doors are also strong, tough and durable and come with top of the range locking systems.
This makes uPVC doors a very popular choice for home owners, as a modern alternative to classic timber doors. uPVC doors are available in a range of different styles, colours and finishes, so it is easy to find the perfect door to suit your home. Unlike timber doors, uPVC doors are extremely low maintenance. You do not need to regularly paint and treat your doors to keep them in tip top condition, a simple wash with warm, soapy water will keep your door looking it's best for years to come.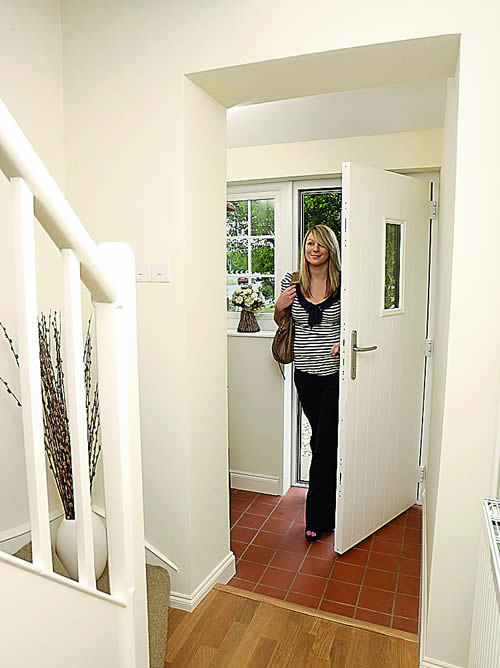 Secure uPVC Doors
Safety and security are so important, giving us peace of mind that whilst we are out of the house, our home and valuable contents are safe and sound. According to the Home Office official crime statistics, 67% of burglars break in through the door.
This is why all of our high quality uPVC doors are built with security in mind.  They are constructed of the highest quality materials and are fitted with the best quality multi-point locking systems, to ensure your home and family are always fully protected.
The doors are fitted within a reinforced door frame and secured with a multi-point lock with two hooks, two finger bolts and a deadbolt.  They also have premium adjustable hinges and keeps which meet all the latest standards and legislation.
So in answer to the question "how secure are uPVC doors?", as you can see from above, the answer is "very secure".
How much are uPVC Doors?
uPVC Doors are available in a range of different styles, colours and finishes. These different options can effect the price of your door significantly. The most important factor is that you are buying a high quality door, from a reputable supplier with years of experience fitting them.  There are many cheap options online, with some companies selling doors from just a few hundred pounds. With uPVC doors, you generally get what you pay for and it is always worth paying that little extra, to ensure you have a great quality door that will be secure and hard wearing for your home for years to come.
Our survey was completed through Google Plus, with 88 responses