Slide and Swing doors are becoming one of the most popular choices for UK homeowners, as a versatile replacement for standard patio doors.  One of the main reasons they are becoming so popular is that the slide and swing doors allow you to completely open up your living space. During the lovely, warm summer months you can open multiple doors and let the lovely warm air flow into your home.  As soon as the colder seasons start, you can close the doors and keep your home nice and warm, using one door individually to come and go as you please without letting all of the cold air in.
It is the different opening options that makes these slide and swing doors so popular.  The multi-pane door let in an amazing amount of light to your home, with the energy efficient double glazing ensuring your home is kept at your ideal temperature all year round.  The door can be operated by sliding or swinging the doors.
Slide and Swing Doors – Swinging
Each pane of these slide and swing doors can be opened individually as you would a normal door.  This can be great for when you are just looking to pop out to the garden, or when you want to keep all of the heat in your home but you are coming and going through the rear of your property.
Slide and Swing Doors – Sliding
As well as your standard swing opening, you can also slide the entire window across to create an amazing opening to your home.  This is perfect for allowing a great amount of light and air into your home and ideal for those garden parties and barbecues giving easy access to both your home and garden.  The slide and swing doors have a state of the art design that allows them to slide and stack neatly out of the way, providing the optimum amount of open space.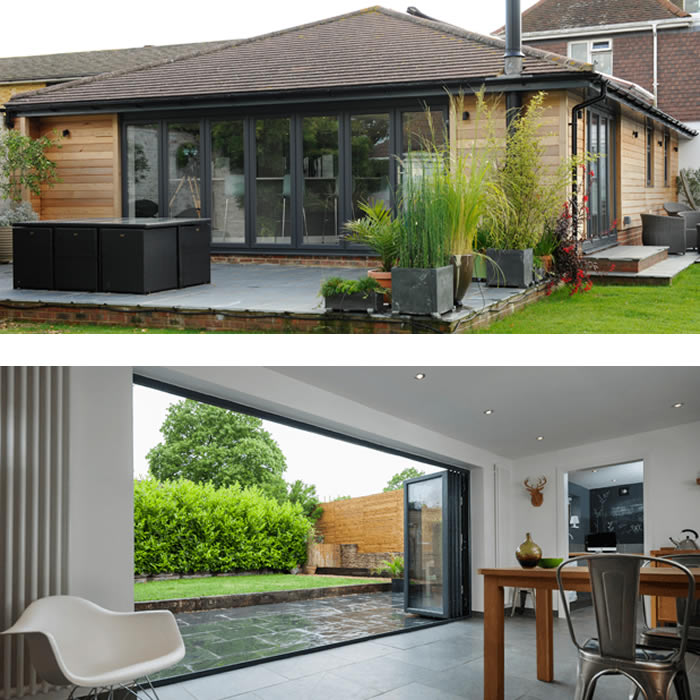 Choosing Patio Doors
There are many different styles of door to choose from when it comes to giving access to your garden doors. From classic sliding patio doors and French doors through to these amazing slide and swing doors and even bi-folding doors. The important factor to look at when choosing replacing patio doors for your home is what would work best for you. If you are just looking for a simple swinging door to use on occasion, then French Doors could be your best option. But if you are looking to let a tremendous amount of light into your home, open your house up to the garden and still keep the easy access of having a single swing door, then slide and swing doors are defaintely worth investigating.
How much are slide and swing doors?
The price of slide and swing doors can vary depending on a number of factors. The size, amount of panes and even the colour of the doors can affect the price. To get a good idea how much slide and doors cost, you can roughly measure your existing door space and then build your ideal slide and swing doors in our easy to use price builder.  This will allow you to see all the available options and get an instant price online including supply, fitting and guarantees. Click here to start your quote now.