With so many options available to homeowners today, the task of choosing a modern front door for your house can seem unbelievably daunting. There are a number of factors one should consider when looking for a front door, mainly in relation to your personal preferences and the style of your home. Understandably, nobody wants to make this decision blind, which is why we've made this handy guide for you!

1930s front door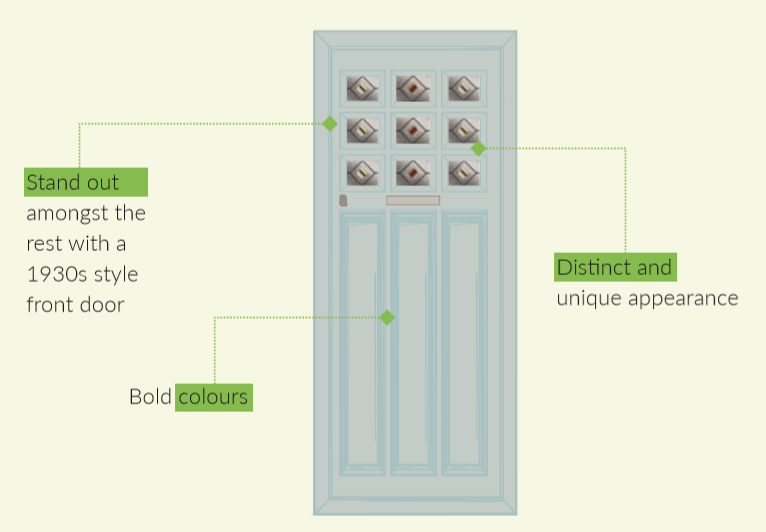 Combining the standout style of the 1930s with the incredible performance attributes of modern doors, a 1930s front door will ensure that your home is unique in its appearance. They're normally a style of composite door, which means they're exceptionally sturdy.
Aesthetically, they utilise vibrant colours and also tend to have a stained-glass design. You might think that the name implies only older houses would be compatible with this style of door but in reality, they can blend in seamlessly with any kind of property. This kind of door is something you might choose if you're looking to be distinct.
Double glazed doors and side panels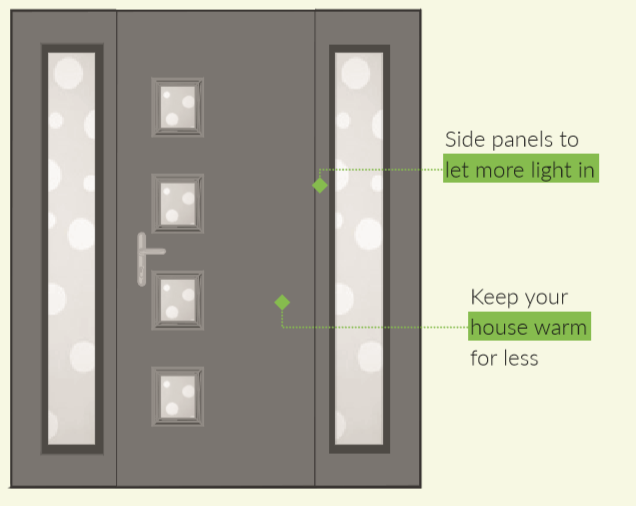 One important aspect of a door is how well it can retain heat within your home, which is where double glazed doors come in. By using two panes of glass instead of one, there's room in-between them for a pocket of argon gas. Argon gas excels at stopping heat as it tries to pass through the glass within your door, whereas a single pane of glass allows heat to travel through it with ease. Double glazing is most effective when used on French, patio, slide & swing, and bi-folding doors as they're made up of largely glass.
You can get side panels for composite doors. Side panels are vertical panels that are placed at either side of the door and they're usually made of glass or a composite material. There's also something called a top box, which is essentially a side panel that sits horizontally at the top of your door. Side panels are both decorative and functional in their use. They tend to have glass panes which allow for more light to be let into your home and they also make the entrance to your home look wider and more inviting.
Contemporary composite front doors
Composite doors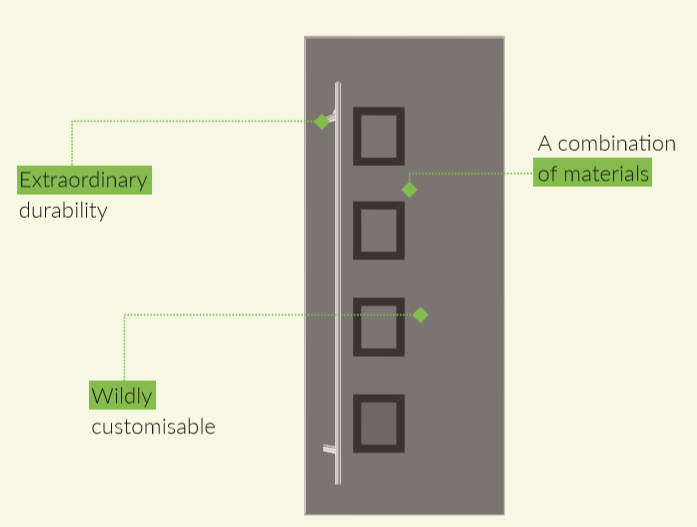 are made up of a variety of materials, including but not limited to: reinforced plastic, uPVC, real wood, and insulating foam. The combination of these materials creates a door that is supremely durable and built to last. A composite door from Fitter Windows uses robust door skins to make them as weatherproof as possible. Whilst composite doors are proven to be practical, you might be wondering how they are aesthetically.
A contemporary composite door is one that can be customised in a variety of ways. We offer composite doors that come in a variety of colours and styles, including our previously mentioned 1930s front doors, so there's a composite door for every kind of home.
White uPVC doors
uPVC is a material that's both extremely strong and durable, it's also low maintenance and easy to clean. A uPVC door won't rot or warp like some other kinds of doors might and they also don't need to be repainted regularly. uPVC doors are widely customisable and are thermally efficient too! Combine all of these great things with an affordable price and you'll see why the uPVC door continues to be the door of choice for many homeowners. Fitter Windows offers many different kinds of uPVC doors, including both front and back.
Wood effect uPVC doors
As mentioned, uPVC doors are one of the most common kinds of doors in use today, and for good reason too. If you're interested in a uPVC door but want it to stand out amongst the rest, there's no better way than getting a wood effect uPVC door. A wood effect uPVC door is a traditional uPVC door, but it's designed to have the appearance of a wooden or timber door, further proving the flexible customisation of uPVC doors.
Black front door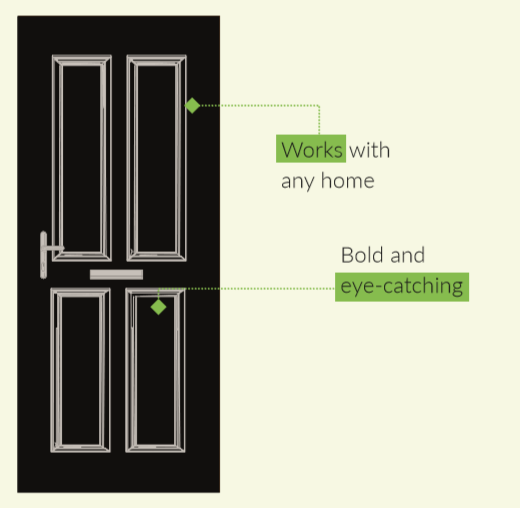 If you're really not certain on the kind of door you want for your home, there's a style that is universally applicable and that is a black front door. No matter what kind of home you have, a black front door will always look good thanks to its simplistic but deeply captivating appearance. Whether your door is uPVC, composite, or aluminium, black is always an option and you really can't go wrong with it.
What material is best for a front door?
The answer to this question is more of an opinion than a fact. Whilst it's true that different materials have different strengths, there is no definitive best material. If you're looking for a well-rounded door at a lower price than most others, opt for a uPVC door. If you're looking for a door that is phenomenally strong and secure, then a composite door is for you. Homeowners looking for a door that is sleek and stylish might be interested in an aluminium door above all else. It doesn't matter what kind of door you go for though, because any door from Fitter Windows is sure to complete your home.
Fitter Windows
Fitter Windows offers more than just the very best in doors. We also have a wide range of windows, conservatories, and orangeries. For more information, you can contact us or browse our website.